Posted by Tony Reala on 14th Jun 2016
You are a huge fan of the show or buying a gift.... So here are some tidbits of info to help you buy quality product.

First off the Authentic stuff you see on Ebay is the same stuff as on the FX website for Sons of Anarchy... only here it is much cheaper. There are only a few licensed manufacturers for Sons of Anarchy apparel and the web site at FX gets their merchandise the same place officially licensed sellers such as myself do. As a matter of fact the FX site sells alot of high ly questionable quality merchandise as well. As they are the owner of the Sons of Anarchy brand they can do whatever they want. So I think this ends up where they make various items local to them, different generic designs, and many of these have been bootleg quality according to my customers. Terrible. So when I have folks write asking about the quality of my product verse FX, its awkward to say, well, ours is better. We only carry what is made by the licensed manufacturers. We don't sell garbage. We wont carry it.

Be wary though, as many of the shirts on ebay are bootleg. They are typically easy to identify... bland designs... designs where you get to choose from multiple colors for the same shirt, and shirts made larger than 3XL. yes, 3XL is the largest size made in authentic product. If you see larger, it is bootleg. I have heard the quality of the bootleg hoodies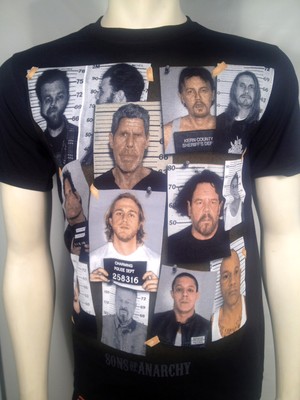 out there is horrible. Also if you see shirts or hoodies with a lower rocker patch with a state like "California" or whatever local area they put on these are also bootleg. You don't want the qualit y of someone with a printing press in a mall kiosk. You want a shirt that is going to last. Please note one exception, the Sons of Anarchy Jacket manufacturer makes larger, up to I think 6XL.... these are real. But for tees and hoodies, it stops at 3XL. it's easy to identify the quality sellers, they have tons of feedback, are Top Rated Sellers etc. Most bootleg people are ebay a short time, have low feedback then get thrown off.

All licensed apparel is preshrunk. As matter of fact out of my 7000 auctions, every item I sell is preshrunk. What is not preshrunk are bootlegs. All licensed manufacturers use quality shirts that have minimal shrinking.

I have had a few customers very upset because the white tag is cut out of the shirt on the neck and the shirt is neck stamped instead. Thi s is the wave of the future and most authentic product is done this way. The white blank shirt tag has to be removed in order to neck stamp the shirt for authenticity. if not there would be a white square in the middle of the neck stamp of Sons of Anarchy and it would look ridiculous. And yes they cut the tag off at the manufacturer, and yes it looks like it was cut it. Because it was, lol. This is normal. There is no other way to remove it. More and more manufacturers wil be neck stamping in the future. It is cool and catching on.

Your shirt doesn't have tags? The truth is for most licenses tags are put on by stores. Not by manufacturers. Someone in a store with a price g un puts it on and nine million people browse it, touch it and try it on. Who wants that? With most high volume ebay sellers like Fearless Apparel, your shirt is never in a store. It comes perfectly new from the manufacturer to us, goes in our warehouse until it ships to you. There are no customers, no browsers, just a brand new product for you. Its the beauty of the internet.No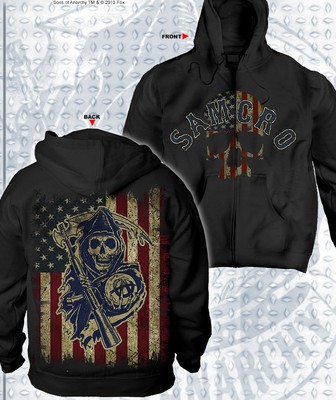 w Sons of Anarchy usually does come with tags as it is now a major line. But please understand there are some cases where shirts don't. It doesnt mean the shirt is not new. If someone is selling 7000 shirts a month, i think you can rest assured they aren't selling used merchandise... In the early days Sons of Anarchy shirts did not have tags at all, some of those designs might still be on a shelf with someone you order from. Then they started putting tags on but they were affixed with leather showlaces! They would fall off as soon as you touched the item....So many would get there without tags. Now they are affixed better than ever so most have normal strong tags holding them, but keep in mind there are many factors. They sometimes miss shirts at the manufacturer, and during peak times where the manufacturer's goal is to print shirts and try to meet high demand the manufacturer is not going to lose a day putting tags on, they are going to ship the shirts without them.

Shirts for women.... Well, what many people don't realize is all licensed apparel for women is a juniors cut.... no matter the license. This fit a thin woman or a teen...Sons of Anarchy is also a smaller juniors cut, about one size smaller than usual. They usually range about 14.5 inches underarm seam to underarm seam one way for a small to about 19 inches in an XXL. So keep this in mind... the shirt is very small. Most adult women over the 19 inch size simply buy the mens cut shirts... it works fine but you lose the cuteness of the designs.... And women's shirts tend to be very thin, almost sheer in some designs.

Well, this is all I have for an impulsive sit down.... I am sure more will come to me soon to share.

Tony Reala
FearlessApparel